Ice cream encased in crispy pastry
Preparation
25 g butter
4 sheets of strudel pastry
50 g strawberries
4 scoops of vanilla ice cream
icing sugar

Melt the butter in a small pan.

Wash and slice the strawberries.

Put each sheet of strudel pastry on the work surface, cut into a square and brush with a thin layer of melted butter. Fold all four corners into the middle and arrange the strawberries in the centre.

Put a scoop of vanilla ice cream on top of the strawberries and press the corners of the strudel pastry lightly together over the ice cream. Freeze the parcels for at least 2 hours.

(Pre-)heat cooking space to 230°C with Hot air + steaming

Put the ice-cream parcels on the hot tray in the preheated cooking space. Bake.

Put the pastry in

Hot air + steaming 230°C for 3 Mins

Dust the dessert with icing sugar and serve immediately.
This is how it's done – step-by-step illustration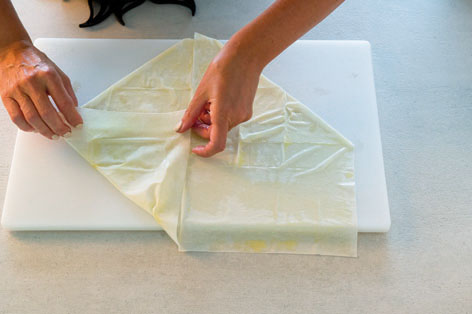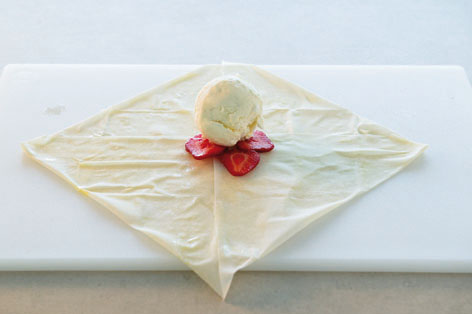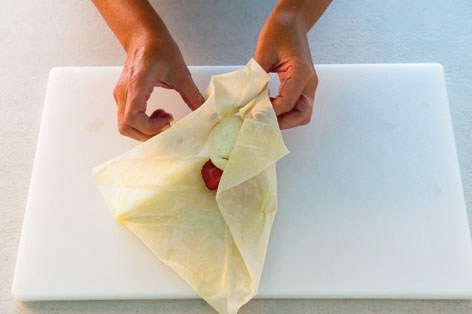 Tips
Various fruit can be used in place of strawberries.
The dessert works even better if frozen overnight.
| Quantity | Ingredient |
| --- | --- |
| 4 sheets of | strudel pastry |
| 4 scoops of | vanilla ice cream |
| 25 g | butter |
| 50 g | strawberries |
| | icing sugar |
---
Customer reviews
There are no customer reviews yet. Be the first to submit a review.
Your review
You have to log in to submit a review. Login